President of the International Competition Jury
Neil Jordan
Film Director
profile
Born in 1950 in Sligo, Ireland, Neil Jordan began his career as a writer. His first book of stories, "Night in Tunisia" (1976) won the Guardian Fiction prize. Since then he has published five novels, "The Past" (1979), "The Dream of a Beast" (1983), "Sunrise with Sea Monster" (1994), "Shade" (2005). His most recent novel, "Mistaken" will be published in 2011.
In 1982 Jordan wrote and directed his first feature film, Angel. Since then he has written, directed and produced more than fifteen films, including Company of Wolves, Mona Lisa, The Crying Game, Interview with the Vampire, The End of the Affair, The Butcher Boy, Breakfast on Pluto, The Good Thief and most recently, Ondine. His films have been honored with numerous awards worldwide, including an Oscar, BAFTAS, Golden Globes, A Golden Lion from The Venice Film festival and a Silver Bear from Berlin. He has been awarded five honorary doctorates and in 1996 he was appointed Officier of the French Ordres des Artes et des Lettres.
International Competition Jury
Judy Ongg
Singer/Actress/Wood Block Print Artist
profile
Born in Taiwan. She moved to Japan when she was three years old, and made her debut as an actress at the age of eleven in the Japan-U.S.A collaboration film of The Big Wave. In 1965, she was referred to as one of the three Chinese treasures along with former baseball player, Sadaharu Oh. Since then she has performed in Japan, China, Taiwan and other countries in Asia, and won the Golden Horse Best Actress award for her role in Love Can Forgive and Forget at the Taipei Golden Horse Film Festival in 1972. In 2007 she performed in an American film, American Pastime, which proved very popular. She is currently performing in a Japan-China-Taiwan collaboration TV Drama, "Hana no Koi". As a singer, she enjoyed a series of hits since her debut at the age of sixteen. She won the Japan Record Award in 1979 for her "Love is Calling Me" a.k.a. "Miserarete". Her song, "Pray", which was sung in Chinese, became a huge hit in Chinese speaking countries in Asia. In 2009, she held a successful concert at Singapore Indoor Stadium. The same year she released an album, "Hasu no Hana", which includes her new song, "Miracle". As a woodblock print artist, her "Sôma-Rô in Twilight" won the Outstanding Award at the 37th Japan Fine Arts Exhibition, Nitten, and in 2009, her work was selected for the 11th time. She is a member of Nitten and a full member of Hakujitsukai. She has held exhibitions in Japan and overseas, and in 2008 she held a successful solo exhibition in the most prestigious institutions in China, the National Art Museum of China. In the same year, she produced and held the "Heart Aid Sichuant" charity concert, where Jackie Chan was one of the guests. She is currently the goodwill ambassador for World Vision Japan and the ambassador for the Support Dog Association. She is fluent in Japanese, Chinese, Taiwanese, English and Spanish.
Domenico Procacci
Film Producer
profile
Born 1960 in Italy, producer Domenico Procacci founded the Rome based production company Fandango in 1989. Over the last twenty years, films produced by Fandango have won numerous awards and participated in scores of international film festivals including Cannes, Locarno, Berlin, Venice, Rotterdam, Toronto, Tribeca, Rio, Sydney, Pusan, Tokyo and Sundance.
Procacci has won the most prestigious Italian award as Best Producer: the David di Donatello three times for L'ultimo Bacio (The Last Kiss) by Gabriele Muccino, Respiro (Grazia's Island) by Emanuele Crialese and Gomorrah by Matteo Garrone and the Silver ribbon in 2002, 2003, 2008 and 2009.
In addition to numerous celebrated Italian films, Fandango has also produced or co-produced films from noted international filmmakers as Rolf de Heer with Bad Boy Bubby, Epsilon, The Quiet Room and Dance Me to My Song; Jiri Menzel's The Life and Extraordinary Adventures of Private Ivan Chonkin; Tim Roth's The War Zone; Richard Lowestein's He Died with a Falafel in His Hand; Milcho Manchevski's Dust; Wong Kar-Wai, Steven Soderbergh and Michelangelo Antonioni's Eros; Ermanno Olmi, Abbas Kiarostami and Ken Loach's Tickets and Silk by François Girard.
HUR Jin-ho
Director
profile
Hur Jin-ho graduated from Younsei University with a degree in Philosophy, and the Korean Academy of Film Arts. He debuted with his own scenario Christmas in August in 1998, and received an invitation to the International Critics Week at the Cannes Film Festival and received praises such as "Un Petit Bijou" (Le Figaro), and "There's a charming innocence" (Variety). His second movie One Fine Spring Day in 2001, also received the Artistic Contributions Awards at Tokyo International Film Festival and the FIPRESCI Award at Pusan International Film Festival. The film April Snow (2005) was selected for Toronto International Film Festival and San Sebastian International Film Festival Official Selection with Christmas in August and One Fine Spring Day, Hur Jin-ho has gain praises as Korea's top director of melodrama. He also directed Happiness (2007) and an omnibus feature film Five Senses of Eros with five Korean directors in 2009. His most recently released film is Good Rain Knows in 2009.
Kichitaro Negishi
Film Director
profile
Born in Tokyo in 1950, Negishi graduated from the Faculty of Theatre and Film Arts of the School of Letters, Arts and Science, at Waseda University, and joined Nikkatsu Corporation as an assistant director. He made his directorial debut in 1978 with a Nikkatsu film, Orion no Satsui Yori, Joji no Hoteishiki. In 1981 his Distant Thunder (Enrai) won the Blue Ribbon Award for Best Director and Best New Director Award from the Agency for Cultural Affairs. Making a brilliant debut into general films, he then joined Director's Company composed of young film directors. He directed films from a wide range of genre, including Detective Story (1983), Whooh! Exploration Unit (Uhohho Tankentai) (1986) and Eien no 1/2 (1987). He has also been active in areas other than filming; he has produced the live performance for pop singer, Seiko Matsuda (1988), and music videos for Yakai Series by Miyuki Nakajima. He returned to the film industry with Bonds (Kizuna) (1998), and in 2005, his What the Snow Brings won four awards―the Sakura Grand Prix, the Audience Award, Award for Best Director and Award for Best Actor at the Tokyo International Film Festival. He dominated Director's Awards at various film festivals in 2006, as well as the Film Award of the Agency for Cultural Affairs. His more recent works include Dog in a Sidecar (2007) and Villon's Wife (2009) which won the Best Director award at the Montreal World Film Festival.

Akira Ogata
Film Director
profile
In 1980, he released his self-produced Tokyo Hakusai Kan-K Sha, then worked mostly on TV documentaries before making a feature-length directorial debut with Boy's Choir (2000). He won the Alfred Bauer Award at the 50th Berlin International Film Festival, then the Special Grand Prize of the July at World Film Festival in Montreal for The Milk Woman (2005), and Best Director at Yokohama Film Festival for Noriben (2009), His latest film is a remake of Louis Malle's Elevator to the Gallows (2010).
Chalida Uabumrungjit
Thai Film Foundation, Project director
profile
Chalida Uabumrungjit studied film at Thammasat University and film archiving at University of East Anglia,UK. Currently she is working as the project director of the Thai Film Foundation. She has supported independent film through Thai Short Film and Video Festival which she served as the festival director since 1997.
Nobuaki Ohsawa
Literary critic
profile
Born in 1976 in Tokyo. M.A. in Media and Governance at Keio University. He writes cultural critiques while taking part in social movements for problems of poverty. His books include "Godlike Critique", "Why is the Japanimation defeated?" Theses: "Violence of Kenji Miyazawa" (The 39th Best Newcomer Shincho Award winner), "Critique and Killing - Rosanjin Kitaoji." Magazines: "Freeter's Free", "Los-gene."

Kamen Kalev
Director
profile
Kamen Kalev graduated from the Femis Film School, Paris in 2002. Kamen's short films Orpheus and Maltonius Olbren received awards at numerous film festivals such as Berlin, Clermont-Ferrant, Locarno, and etc. His short film GET THE RABBIT BACK was in competition at Cannes International Film Festival in 2005, and RABBIT TROUBLES was selected to the Critic's Week at Cannes. He won Tokyo Sakura Grand Prix at the 22nd TIFF with his Eastern Plays.
Hiroshi Kashiwabara
Screenplay Writer/President, Writers Association of Japan
profile
Born in 1949 in Tokyo. Graduated from the Nihon University College of Art.
Main TV credits: "Kizudarake no Tenshi", Daitokai Series, "Great Chase", "Tantei Monogatari", "Pro Hunter", "Seibukeisatsu", "Abunai Deka" and others.
Main Film credits: Abunai Deka Series, Beppin no Machi, Ikidomari no Banka Break Out, Godzilla vs. Space Godzilla, Lupin III: Kutabare Nostoradamusu, Detective Conan The Private Eyes Requiem and others. Film credits as a director: Neko no Musuko and others.
Takashi Kitakoji
Film Critic
profile
Kitakoji completed his M.A. in the Graduate School of Economics, Faculty of Political Science and Economics, at Waseda University. He currently writes film reviews for various newspapers and publications, including the "Asahi Shimbun", "Kinema Jumpo", "Subaru", "So-en", "Gendai Shiso" and "Eiga Geijutsu." He is the author of "Love from Outer Space: Wong Kar-Wai", and the co-author of "Eiga no Seijigaku", "Pedro Costa: Whispering in Distant Chambers", Shakai-ha no Tatakai-kata", etc.

Etsuko Takano
General Producer of Tokyo International Women's Film Festival
profile
Born in Manchuria (now the northeast part of China) in 1929. In 1951, she graduated from the Department of Social Welfare, Japan Women's University, and joined Toho Co., Ltd. Left Toho to study film directing at the Institute for Advanced Cinematographic Studies (IDHEC; now named La Fémis) in Paris in 1958, and completed her studies at IDHEC in 1961. In February 1968, she was appointed as General Manager of Iwanami Hall upon its foundation and presided over the Équipe du Cinema series with Kashiko Kawakita in 1974. She was appointed as General Producer of the Tokyo International Women's Film Festival in 1985, and also appointed as the first Honorary Director of the National Film Center in 1985, and held the position until August 2007.
Tetsuya Bessho
Actor/ President of Short Shorts Film Festival
profile
Tetsuya Bessho graduated from the Faculty of Law, Keio University. He made his movie acting debut in Hollywood in 1990 in the Japan-US co-production Solar Crisis. He became a member of the Screen Actors Guild (SAG). Some of the best-known works he has appeared in are Shin Dosei Jidai (for which he won the Rookie of the Year Award at the Japan Academy Prize), Nami no Kazu dake Dakishimete, Daitouryo no Christmas Tree, Parasite Eve, Messenger, Ekiden, Ultraman and Makoto. Apart from acting, he serves as the President of the Short Shorts Film Festival (www.shortshorts.org) that has been held in Japan since 1990.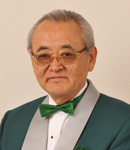 Tom Yoda
Chairman, Tokyo International Film Festival (TIFF & TIFFCOM)
profile
Tom Yoda was born in 1940 in Nagano Prefecture. He graduated from Meiji University in 1963 with a degree in business management.
After serving as director of Sansui Electric, he established Thomas Yoda Limited (later renamed T.Y. Limited Inc.) in March 1988. In August of the same year, he became an Advisor to Avex Group Holdings, Inc. He was appointed Chairman of the group in 1993, and served as Chairman and CEO from 1995 until he left Avex in August 2004.
He has served as Chairman of GAGA Corporation since December 2004 and was appointed Chairman of the Board/President/CEO in July 2009. He also owns and heads T.Y. Limited Inc., Dreamusic Inc., and T.Y. Entertainment, as well as serves on the board of directors for T-Joy Co. Ltd and Rakuten, Inc.
In March 2008, Yoda was appointed chairman of the Tokyo International Film Festival (TIFF & TIFFCOM). He has been a member of the Board of Directors of the Japan Business Federation and Chairman of the Subcommittee on Entertainment and Content under the Committee on Industrial Affairs. Among his other responsibilities, he serves as Executive Director of the Visual Industry Promotion Organization (VIPO) and as Vice Chairperson of the Japan International Contents Festival (CoFesta).Other contribution includes memberships in various committees of the Japanese Government.